Kasauli;(1927 Mts): Kasauli can in no terms be summed up as `Mountains`, `trees` and `water` because its appeal lies somewhere else. The appeal is `time wrap`, `the misty smell of era` gone by and its `architecture'. Do not come prepared to see a `hill station`. Kasauli is much more than that...
Introduction to Kasauli
One of the small towns developed by the British during the 'hey days' of the empire, and reached by a branch road from the Kalka-Shimla road, the quite beautiful hill-station of Kasauli has a Pasteur Institure that produces the antirabies vaccine against mad dog-bite and, at the same time, treats victims who have fallen prey to the dead disease, Hydrophobia. The Englishman's love for his pet
is proverbial and he loth to part wiht or destroy hi dos even when begins to show signs of madness. If the victim of a dog-bite is not treated in time - hydrophobia, or fear of water occurs, resulting in his inability to swallow water. For the dog set, Louis Pasteur performed invaluable service when he perfected his vaccine in the late 19th century. The institute in Kasauli set up in 1900, is the oldest in India, taking care of pet, police and army dogs as well as their masters. Side by side another institute produces other vaccines, this is the Central Research Institute affording immunity from Typhoid, small-pox [which has been eradicated], chlorea and snake-bite. This region has also been a witness to Gurkha expansion at now to ruins of old Gurkha Fort at Subathu .At 3647 mt, the Choordhar or Choor Chandni peak, looms over the sylvan surroundings, and just across the ranges, is Shimla. The upper and lower Malls are the two principal roads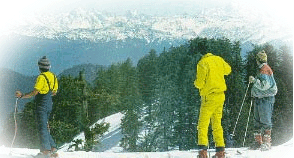 that run along the length of Kasauli, a thick cover of pine, oak,rhododendron, horse chestnut trees embrace the entire area. Traffic is restricted on these roads, which is the reason why, Kasauli is one of the quietest hill stations in India. The resort's colonial aura is underlined by gabled houses with picturesque facades, cobbled alleys and rows of neat orchards and elegant gardens. The Shimla Hills stand on a water - parting between the Sutlej and the Giri, a tributary of the Yamuna. South of Shimla is the Panchmunda ridge which is crossed by a railway through a tunnel (the longest in the Kalka - Shimla run) at Barog, where a series of fissure to springs occur at its flank. the first ridge above Kalka rises abruptly to pineclad Kasauli at a height of 1,927 meters and is joined by a 12 Km bridle path. Hotel Near Heathrow Boston Manor Hotel is close to Heathrow Airport and near Central London. The hotel has conference and banqueting facilities. Situated in West London, near Ealing, Chiswick and Hammersmith with easy access to Central London and Heathrow Airport Hotel.